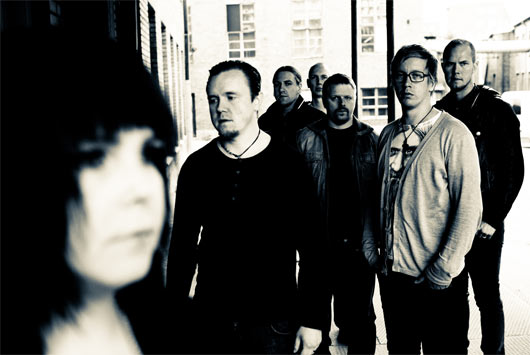 The Chant (photo: Kalle Pyyhtinen). from left to right Mari Jämbäck (keyboards, piano), Ilpo Paasela (vocals), Markus Forsström (bass), Kimmo Tukiainen (guitar), Roope Sivén (drums), Pekka Loponen (guitar, vocals), Jussi Hämäläinen (guitar, vocals).
The Chant is a seven-member Finnish band based in Vantaa and Helsinki.
Our past
1999
The current line-up was formed in 1999, when Jussi Hämäläinen, Mari Jämbäck and Ilpo Paasela were joined by Kimmo Tukiainen from Diablerie (c). At the same time Markus Forsström and Roope Sivén joined the band. One could say they now, after nearly ten years, know each other thoroughly.
Before releasing their debut The Chant recorded four demos. The first two helped shaping the band's sound but the latter two gained a lot of positive feedback. Sighs (2005) was named Demo of the Month in Inferno and Imperiumi.net.
After Sighs it all got slightly bigger. With Breakdown (2006) the band won Radio YleX's demo contest, and was granted nationwide airplay. Even before its release, Ghostlines was already noticed throughout Finland, due to the single Ode to the End which got included on the main playlists of the most significant radio stations in Finland.
2008
In 2008, The Chant's debut album "Ghostlines", 54 minutes of melancholic music full of beautiful melodies and harmonies, was released by Shadow World Records.
The band's members are no strangers to collaborating with other bands and artists. Around the time when Ghostlines was released Kimmo Tukiainen started playing live guitar in Rapture (d).
2009
Ilpo Paasela collaborated with Matti Reinola from ShamRain giving his voice and interpretation to a track for the score of an open source movie Valkaama (e).
The Chant's guitarist and main composer Jussi joined Hanging Garden (a) as they were making their second studio album titled TEOTWAWKI.